Special Courses
SPANISH ONLINE CLASSES
Are you going back to your country and you want to go on studying Spanish?
Do you just want to begin learning Spanish and live far from San José del Cabo?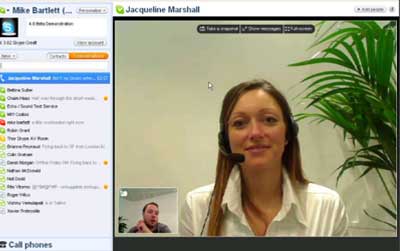 Private Classes. Now you can do it through SKYPE. You will have a teacher working
with you wherever you are. You just need a good internet connection, a microphone and earphones. Depending on the course you are doing we will send you materials through e-mail or even the necessary books to your home. You can choose to follow a full course or we can just adapt to your requirements.
Skype name: spanishincabo
If you do not have skype you can download it from its official page,
www.skype.com
Every Saturday at 10.30 am Cabo time you may be part of a group live videoconference online with one of our teachers. We use Skype premium with capacity of up to 3 students so enrolled early. You have 2 possibilities. Before paying your fee send an e-mail to check availability and book one of the 3 spots or just connect yourself using Skype any Saturday at 10.30, check if there is an empty spot, pay using paypal clicking bellow and get into the conference. Price is us$ 14 for a 1 hour conference or us$ 36 if you prepaid 3 conferences.
CHECK PRICES AND PAY REGISTRATION FORM
---
IT'S EASY TO LEARN! SITUATIONAL SPANISH
Spanish in Cabo offers a unique approach to learning Spanish by focusing on situations rather than "school" style grammar.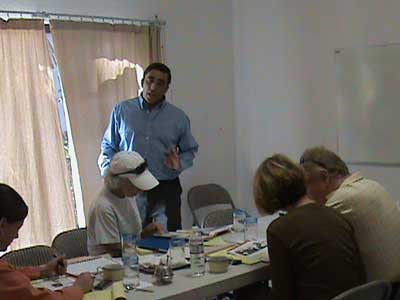 Grocery Shopping - Food has always been the most enjoyable way to learn about another culture. Use your Spanish to easily navigate a grocery store or Farmer's market.
Dining Out - Whether it's a celebration at an elegant restaurant or a quick hamburger in town, wouldn't it be nice to feel comfortable interacting with the staff in their own language?
Around Your Home - No more pantomiming what you would like to have done around the house.
Each Situational Spanish course can be completed in less than one week with only two, three-hour classes on Mondays and Thursdays. During the Monday morning course, we will cover vocabulary and grammar focusing on the situational theme. We send you home with materials to review on your own for two days.
The Thursday morning course is designed for role-playing to help you become comfortable with your new Spanish language skills The "Grocery Shopping" course starts on the 1st Monday of each month, the "Dining Out" course starts on the second Monday and the "Around your home" course starts every 3rd Monday of each month.

You can enroll for the three courses within a month or for just one or two of them.
CHECK PRICES AND PAY REGISTRATION FORM
---
SURVIVAL SPANISH (30 MODULES OF 1.5 HOURS EACH)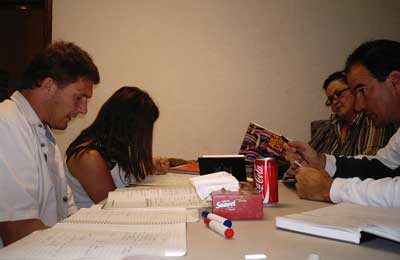 You do not want to do a full course, you just want to be able to talk to the gardener, the cook or the people at the restaurant. You can do this alone, with your couple or with friends or neighbors. You can do it at Spanish in Cabo school or at your house or club house at Casa del Mar, Palmilla, Querencia or wherever you live. You have several topics to choose from or just ask for a non included specific topic and we can prepare it specially for you. The program is separated into modules of 1.5 hour each. You can enroll into just a module, some of them or into the whole program.
| | | |
| --- | --- | --- |
| MODULE | | TOPIC |
| 1 | | Personal introduction, hobbies, nationality. |
| 2 | | Making friends, finding things in common. |
| 3 | | Answering the phone. |
| 4 | | The house, rooms, furniture, garden and so on |
| 5 | | Housekeeping, giving instructions, making requests. At the gas station. |
| 6 | | Stores, things you can find in a town, directions. |
| 7 | | Parts of the body and talking to the doctor. |
| 8 | | Going to the supermarket |
| 9 | | Talking about your present habits and frequency. |
| 10 | | Describe somebody, something and compare. |
| 11 | | Food and going to a restaurant |
| 12 | | Expressing needs and preferences. |
| 13 | | Let´s go to a shop. |
| 14 | | Plans for the future |
| 15 | | What did you do yesterday? |
| 16 | | Telling how something was and your habits in the past. |
PASSING THROUGH CABO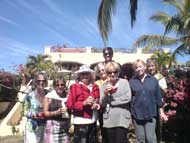 1 week – 6 or 10 hours
Monday through Friday flexible schedule to organize the classes with a minimum of 1.5 hours per time.
In case of no knowledge of Spanish the idea of this course is to give basic elements of Spanish while the student is on vacation in Cabo. We prepare our students for specific situations such as usage of Mexican currency, hotel and restaurant conversations, shopping locally and some health issues.
In case our student knows some Spanish we can agree on the topic to cover in the hours that we are together.
CHECK PRICES AND PAY REGISTRATION FORM
Holidays

January 1st

New Year Day / Año Nuevo

March / April

Good Friday / Viernes Santo

May 1st

Labour Day / Día del Trabajo

September 16th

Independence Day / Día de la Independencia

December 25th

Christmas / Navidad

There is no refund or reduction fee for a holiday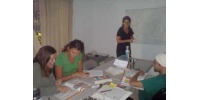 Spanish course for residents 1
Six levels - 3 times a week, 2 hours each
Free